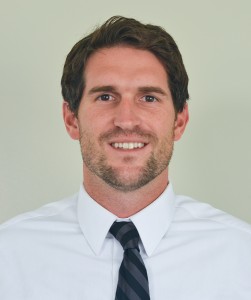 October 10, 2015—Lehi, Utah
Jon Lehman has been selected as the Head Football Coach for Skyridge High School, currently under construction in Lehi, Utah. The school will open in August 2016.
Coach Lehman has spent the last six seasons as a Defensive Coordinator and defensive back coach at American Fork High School. He was an integral part of a coaching staff that took the Cavemen to the 5A State Championship game last year, and he also coached the top ranked scoring defense in Region 4 for the past two seasons. Prior to moving to Utah, he spent two years as a coach at Greenville College (Illinois) and a year at Sunny Hills High School (Fullerton, CA). Lehman played college football at Trinity University in Chicago, where he was a four year starter, three-time captain, and is the all-time career sack leader.
Coach Lehman feels it is important to train young men to be leaders and competitors, to have outstanding character, and to pursue excellence in everything they do. He serves as a national coordinator for the NFL Play 60 character camps, working with youth around the country in conjunction with NFL franchises. He helped design the curriculum for the camps, which teach basic football skills, character traits, and the value of physical fitness. Skyridge Athletic Director Mark Clinton says, "Coach Lehman uses athletics as a vehicle to build leaders. He believes that success is measured by a culture focused on achieving team objectives."
In addition to being a widely respected teacher of US History and Government classes, Lehman has received the "Most Motivational Coaching Award" three times at AFHS, an accolade voted on by the football players. Speaking about this new position, Lehman says, "I am grateful for the opportunity I had to coach some of the most outstanding young men I have ever known over the past six years at American Fork High, as well as for the relationships I have with some truly great teachers and coaches. I look forward to the opportunity to build a new program at Skyridge High School, one that the community of Lehi will be proud of."
Skyridge Principal Joel Perkins says, "Jon Lehman is an excellent history teacher and successful football coach. We love his passion for improving young people's lives. We have great confidence that Coach Lehman will build an outstanding program at Skyridge. We are excited to welcome him to our team."
Coach Lehman has a bachelor's degree in secondary education (history), and a master's degree in education (teacher leadership). He and his wife Christy have a ten month old daughter and live in Lehi. Coach Lehman will continue to teach and coach at American Fork High School for the remainder of the school year.