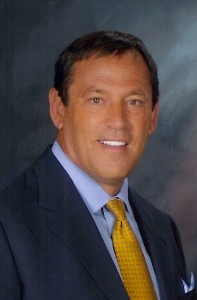 April 20, 2015–Lehi, Utah Mark Clinton has been selected as the Athletic Director for the new high school in northeast Lehi. He will begin responsibilities associated with this position on July 1, 2015.
Coach Clinton has been involved with education and athletics for most of his life. He was recently inducted into the Pacific Lutheran University Athletic Hall of Fame as a four-year letterman, receiving National Honors in both football and golf. After a brief stint playing professional football, Clinton hung up his cleats to begin his teaching and coaching career at Rocky Mountain College in Montana. This launched 30 years of teaching physical education and health at the junior high, high school, and college levels. During this time, he spent 18 years coaching football at both the high school and college levels, guiding his team to a NAIA National Championship. Clinton has tremendous experience in the many aspects of athletic administration and event management, having served as a high school administrator for the last nine years.
Clinton's experience as a national men's sportswear buyer for Nordstrom, Inc. will also prove valuable with the school's branding, uniforms, and apparel. Although he has received many accolades and awards during his career as an athlete, a teacher, and a coach, Clinton is the first to explain that these awards pale in comparison to the experiences he has shared with student athletes as they improve their academic, athletic, and social abilities.
Clinton says his greatest accomplishment was marrying his wife, Jana. Together they have two children and five grandchildren. Principal Joel Perkins says, "Coach Clinton believes very strongly in two very important words – respect and discipline. He believes in the role that athletics play in teaching character and the value of respect and discipline in the lives of our students. I am proud to welcome Coach Mark Clinton, and look forward to working more with him in this new role."