Thank you to everyone who voted to help name our mascot.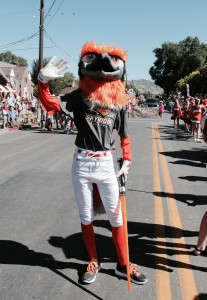 The name you selected is FLASH! We're looking forward to a great year!
If you need to make a class change, please remember that THURSDAY, JUNE 30 is the last day to submit a class change request form without a class change fee. Click here for class change instructions and form
Tennis: Coach Rawstorne will be holding a camp for women's tennis (grades 9-12) July 12-16 at 4pm. The cost will be $60. Payment can be made on My School Fees.
Track: The Skyridge Track and Field online store will be open through Monday, July 25 at 11:59pm. Click here to order
Volleyball: A Skills Camp will be held July 18-21 at Skyridge High School. For more information, click here.
Summer homework: Here is the link for English 10H. Summer Homework
PARADE: Thanks to everyone for their support at the parade. It was great to unveil our mascot name/costume and introduce some of our programs.